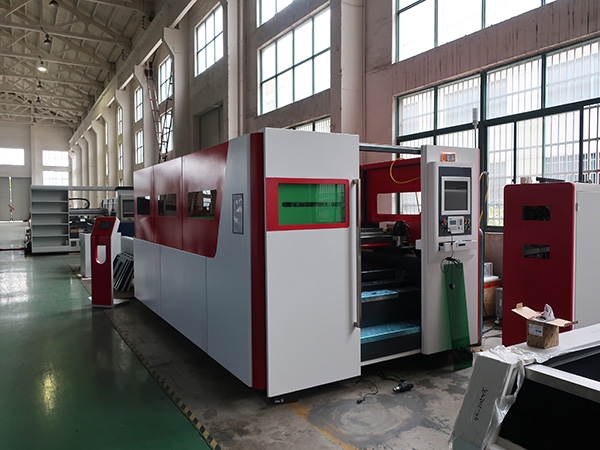 Tehnilised andmed
---
Lõikepind: 1500 * 3000mm
Lõikekiirus: 0-40000mm / min
Toetatud graafiline formaat: AI, PLT, DXF, BMP, DST, DWG, LAS, DXP
Kasutamine: Laserlõikamine
Seisukord: Uus
Cutting Thickness:depends on materials
CNC or Not:yes
Jahutusrežiim: vee jahutamine
Kontrollitarkvara: Cypcut
Päritolukoht: Anhui, Hiina (mandriosa)
Tootja nimi: ACCURL
Sertifitseerimine: CE, ISO, FDA
Garantii: 3 aastat
Name:fiber laser cutting machine
Laser power:500W / 750w/1000W / 2000W / 3000W
Moving Speed:40m/min
Max Cutting Speed:25mm/min
Jahutusviis: vee jahutamine
Driving way:imported Servo Motor
Märksõna: Fiber Laser Cutting Machiens
Min line width:0.1nm
Driving and rails:Imported Servo Motor and Linear rails
Tootekirjeldus
---
NO.1 Meie laserlõikurite omadused
1. Application of gantry structure and integrated cast cross-girder to achieve higher rigidity, stability, shock resistance.
2. High-performance laser source and stable operating system which make the best cutting effect.
3.The machine owns perfect cooling system, lubrication system and dust removal system, to ensure that it can operate stably, efficiently and durably.
4. The machine is capable of automatic height adjustment to maintain constant focal length and stable cutting quality.
5. The machine is used for cutting a variety of metals with excellent and stable cutting quality.
6. Spetsiaalne CAD / CAM automaatprogrammeerimise tarkvara ja automaatne pesitsustarkvara on suunatud toorainete maksimaalsele salvestamisele.
7. Access to the CNC system through Ethernet interface makes communication and remote monitoring possible during the laser cutting process.
NO.2 Masina rakendusala
1.Application materjalid: Fiber Laser Lõikamine seadmed sobib metallist lõikamine roostevabast terasest leht, kerge terasplekk, süsinikterasest leht, sulamist terasplekist, kevadel terasleht, raud plaat, tsingitud raud, tsingitud leht, alumiinium plaat, vask lehed, Messingileht, pronksplaat, kuldplaat, hõbedane plaat, titaanplaat, metallleht, metallplaat, torud ja torud jne
2.Application Industries: BODOR Fiber Laser Cutting Machines are widely used in manufacturing Billboard, Advertising, Signs, Signage, Metal Letters, LED Letters, Kitchen Ware, Advertising Letters, Sheet Metal Processing, Metals Components and Parts, Ironware, Chassis, Racks & Cabinets Processing, Metal Crafts, Metal Art Ware, Elevator Panel Cutting, Hardware, Auto Parts, Glasses Frame, Electronic Parts, Nameplates, etc.
tootenimi

kiudlaserlõikur

Max Cutting Range

3000 * 1500 mm

Machine Size(L*W*H)

2,4 * 4,7 * 1,9 m

Accessory Parts(L*W*H)

Chitler 1*1*1.2m Control Box 1*0.8*1.8m
Fiber Module 0.5*0.6*0.14m

Laser Medium

Single Core Junction Semiconductor Module

Maksimaalne lõikekiirus

25m / min

Jahutusviis

Vee jahutamine

Cutting Depth

0,2-6 mm

Driving and Transmission Way

Imported Servo Motor and Linear Guide Rail

Võimsusnõuded

380V / 50Hz / 16A
KKK
---
1. What is fiber laser cutting machine?
Fiber laser cutting machine adopts fiber laser source to output laser beam in high power density, which is focused on the artifacts to make the irradiated area fused and gasified. Then the laser head controlled by the CNC system moves on to cut the artifacts automatically.
2. What material can fiber laser machine cut?
Stainless steel, carbon steel, mild steel, galvanized steel, aluminum, copper, brass and other metal sheet and pipe.
3: Will the package damaged during transportation?
A: Our package is considerate all the damage factors and make it to be safe, and our shipping agent have full experienced in safe transportation. We have exported to 180 countries worldwide. So please don't worry, you will receive the parcel in good condition.
4: How to install and run the machine?
A: Our technician have installed the machine before shipping. For some small parts installation, we will send detail training video, user's manual along with the machine. 95% customers can learn by themselves.
5: How can I do if the machine goes wrong?
A: If confronted with such problems, please contact us asap and do not try fix the machine by yourself or someone else. We will response within 24 hours as quick as we can to solve it for you.