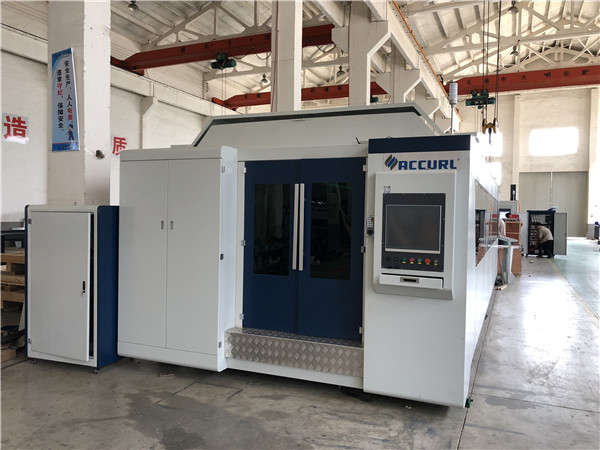 Tehnilised andmed
---
Cutting Area:1500mm*4000mm
Cutting Speed:0-90000mm/min
Graphic Format Supported:AI, BMP, DST, DWG, DXF, DXP, LAS, PLT, IGES
Kasutamine: Laserlõikamine
Seisukord: Uus
Lõikepaksus: 0-25mm
CNC või mitte: Jah
Jahutusrežiim: vee jahutamine
Kontrollitarkvara: Cypcut
Päritolukoht: Anhui, Hiina (mandriosa)
Tootja nimi: ACCURL
Certification:AAA,CQC
Garantii: 1 aasta
color:be customizd
Laser source:IPG,FEIBO,RUIKE,RAYTOOLS.etc
Working area:1500mmX4000mm
Ametikoht: metallmaterjalide lõikamine
Tootekirjeldus
---
The company production of type ECO-FIBER-1530 fiber laser cutting machine, equipped with imported high precision linear guide and rack gear, transmission mechanism, through the special CNC system of advanced fiber laser, fiber laser cutting machine precision CNC together, is a set of laser cutting precision machinery, CNC technology and other disciplines in one of the high-tech products, the machine has good dynamic performance, fast response servo, with power in the fiber laser cutting efficiency high. Mainly used in carbon steel plate, stainless steel plate, cutting Aluminum Alloy metal forming and cutting machine is the preferred metal material processing industry.
Industry Applications:metal cutting, Electrical Switch Manufacture, Elevator Manufacture, Household Appliance Manufacture, Kitchenware Manufacture, Tool Processing and so on machinery manufacturing and processing industry. 
Working Area(L×W)

4000mm × 1500 mm

X-axis Travel

1550 mm

Y-axis Travel

4050mm

Z-axis Travel

120 mm

X/Y-axis positioning accuracy

0,05 mm / m

X/Y-axis reposition accuracy

+0.02mm

Max. Moving Speed

70m / min

Maks. kiirendus

0,5G

Kogumass

5000Kg

Max. Loading weight of cutting table

500kg

Phases

3

Pinge

380V

Sagedus

50 Hz

Protection Level

IP54
 1,First class technology and production efficiency: new CNC technology and open CNC architecture with Intel dual-core CPU;
2,Modular structure;
3,PC technology: with the standard PC open system, users can integrate their PC software on CNC, such as NC programming tools, statistical procedures, visualization programs, etc.
4,Real open CNC: based on the real open architecture CNC (including CNC kernel), the user can with safe and reliable way to integrate other professional and specialized software (written in c + + compiled program) into the system;
5,High productivity, high accuracy and good surface quality requirements have been continuously improved;
6,Man-machine interface;
7. Comprehensive diagnosis function, quick find fault;
8. Multi-cutting auxiliary gas can be easily converted by numerical control system;
9. Equipped with an all-sharp laser expert cutting process parameter library, and equipped with a humanized expert database parameter interface, the laser cutting process parameters can be modified in the interface;
10. Ethernet communication interface can communicate directly with the computer and transmit part program files;
11. Display function with status display and current position;
12. The storage space of hard disk is 200G, and the processing program can be called directly from the hard disk, and it is not restricted by the system memory.
KKK
---
Q:How long is your warranty?
A:Our warranty has been one years.
Q: Can you guarantee the quality of you products?
A: You can rest assured that our company has been doing this for more than ten years,and we'll test every machine before it ships.
Q: What are you terms of payment?
A: We usually accept payment by L/C and T/T(Prepay 30% and 70% before shipment)
Q: How do I contact you when we have a problem?
A: We can contact through WeChat, e-mail, whatsapp, skype.
Q: What to do when I do not what model is suitable for me ?
A: Please tell us the materials you are using, the required mechanical dimensions, configuration and parameters , and further discussion is possible.
Q: After the arrival of the goods in the training of this area is how to solve?
A: We will arrange for 1 OR 2 professional staff for machine training.